"Search it on the internet" Is a common resort when we do not know the answer. Indeed, the internet has become an important part of our daily lives. It has a lot to offer – accessing information, communicating real-time with anyone, and even conducting your businesses – all at your fingertips.
In our previous blog, we discussed how having a website can be beneficial to your business. However, simply putting it up is not enough since you have to compete against an estimated 1.8 billion websites globally. Websites are sorted in such a way that only the most relevant and useful ones appear in the search results of users.
This is where content writing and search engine optimization come into play. Knowing these two will increase the chances of your potential clients being directed to your website, allowing your website to compete in the ranking system.
What is content writing?
Content writing is the process of conveying messages or ideas through the use of words. The most common content writing examples are articles and blogs Aside from that, it can actually be seen anywhere – in video scripts, email, speeches, social media posts, titles, and so on. Writing is the foundation of the majority of the content you will publish online.
How to write content?
When writing, your goal must be to appear in the search results of your target client. Without a target, you're writing for everyone, making it difficult to establish your own brand.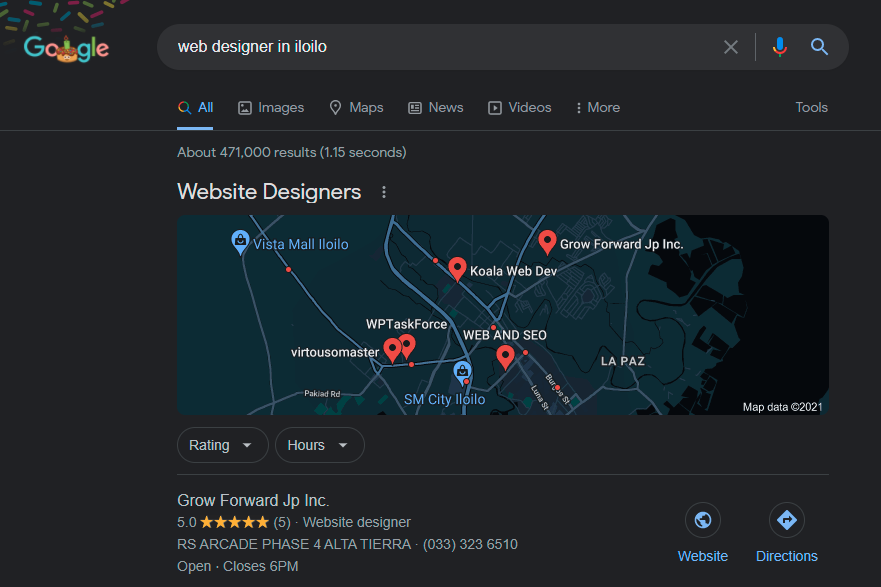 So, decide what makes your website unique and what values you will provide. Keep in mind that other businesses are selling the same products. Publish high-quality content worthy of the user's time, in which their needs and solutions to their problems are fully addressed.
I published several contents but it is not attracting visitors, what should I do?
For start-up websites, not attracting visitors is completely normal. Making your way through the search algorithm and ranking system is a matter of trial and error.
Start by optimizing content for SEO or search engine optimization. It is a process of ensuring that the content is written in a way that it can reach the largest possible target. Below are the most applied SEO strategies:
1. Keywords – A few will not hurt
Stay updated on the most-searched topics in your industry. Break down and convert these topics into keyword phrases to be added to your posts. Keep a low profile; make sure that these keywords do not dominate your content. There are free SEO Keyword tools to help you in your keyword research. Wordtracker, SEMRush, and Google AdWords Keyword Tool are some of the examples.
2. Related links
Include relevant internal and external links to your posts. Recall your previous blog or simply cite the sources you've used. This way, you saved the user time from having to go back to the search bar, which increased the user retention rate on your website. Including links will give authority to your blog posts for search engines.
3. Tags
By using tags, it is easier for readers to navigate through their topics of interest. Tags are most visible in your title since this is the first thing people see when viewing your organic result after a search.
These are just a few of the many strategies available when optimizing for SEO; if you want to discover more, here's a beginner's guide to SEO.
Why the need to optimize for SEO?
SEO is an important part of any successful marketing strategy. A normal content gives you the freedom to write however you want. With SEO, you are limited to keywords that are only relevant to the topic at hand.
If you Google the best tourist spots in the Philippines, you will get the following results: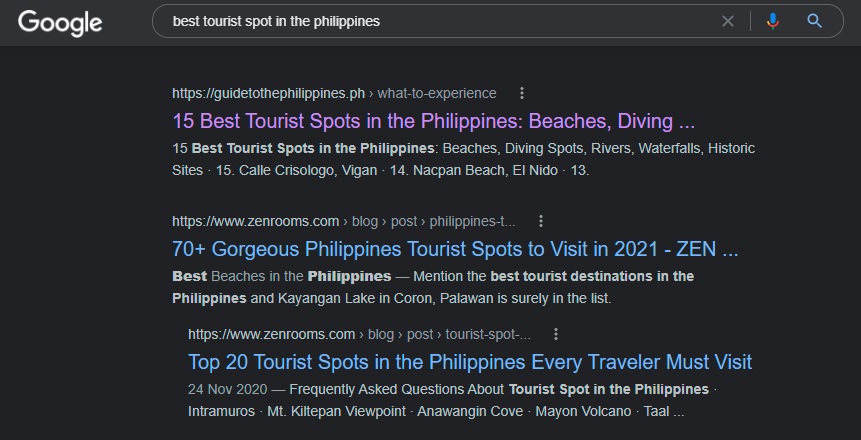 The results show what Google thinks will be the most helpful to you. You'll notice that the keywords you entered are emphasized. Users, like you, conduct millions of searches each day, often with the intent of learning more about products or services.
Learning from the example, if you want your clients to discover your products, you must predict what they will search for
and the possible follow-up queries. If they search for web development services, they also tend to consider the companies and the rates that come with it.
Should you try content writing and opt if for SEO?
Definitely yes. SEO ensures that your website will have an advantage over competitors. With the right SEO strategy, you can increase its visibility and credibility. It does not require you to spend money unless you want to purchase advanced SEO tools or hire a professional in the field. Nonetheless, investing in these two has been shown to benefit your business or website in the long run.
Still have some unanswered questions?
"Search it on the internet"
Kidding aside, talk with us for advice on your content and let's try to dig deeper on the subject next time.