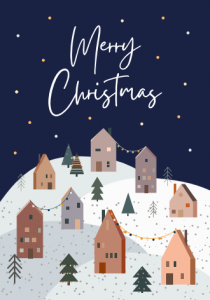 Christmas in the Philippines is a mixture of Western and Native Filipino Traditions. Sending Christmas cards is one thing that Filipino people adapted from Western culture. To some extent, Christmas card is not that common in the Philippines anymore. As an alternative to Christmas cards, we now use social networking sites (SNS) such as Facebook and Messenger, as well as video greetings. Several teachers and schools in the Philippines still encourage students to make Christmas or other holiday cards for their loved ones.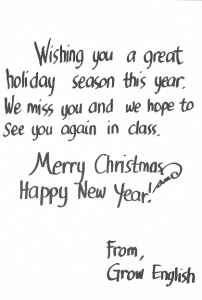 Japanese Nengajo is the Japanese equivalent of a Christmas card in Western countries. Sending out cards to friends and families has been their tradition in Japan. Many people, especially businessmen, usually create hundreds of cards each year and write a handwritten message to their business partners and friends. Unlike traditional Christmas cards, Nengajo is a New Year's greeting card that wishes the receiver a prosperous and fortunate new year.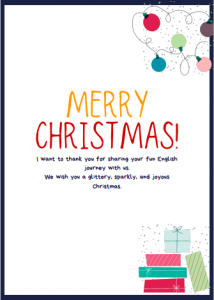 Every Christmas, the Grow English teachers have their tradition. They send their best wishes and greetings to all of their students. Every year, the employees of this Web Development company always made an extra effort to make this activity possible, even during this time of pandemic. In previous years, we sent physical cards to students. Teachers create their designs by drawing, writing, and taking cute photos of themselves, which they then include in handwritten cards sent to students. Due to pandemic restrictions, sending handwritten cards takes longer than usual this time. This, however, did not hinder Grow English's efforts to send Christmas cards to students. Handwritten cards can now be digitalized more easily and quickly thanks to advances in technology.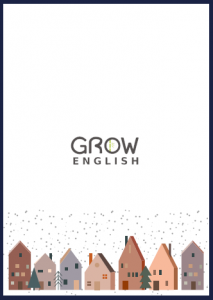 On the other hand, some students in partner Cram schools in Japan make their cards and digitally send them to the teachers. Students usually write about their favorite memory and experience with Grow English.
Grow Forward JP, Grow English provides extra effort to make clients feel the love and warmth of Christmas even during this difficult time. The teachers had fun and were happy to send their regards to the students who took the time and trusted them to improve their English skills. Traditions may change over time, but the effort that each person made to create the Christmas spirit was fantastic. I'm hoping that next year we'll be able to meet and personally deliver our cards to students.